Camp Card COVID-19 Program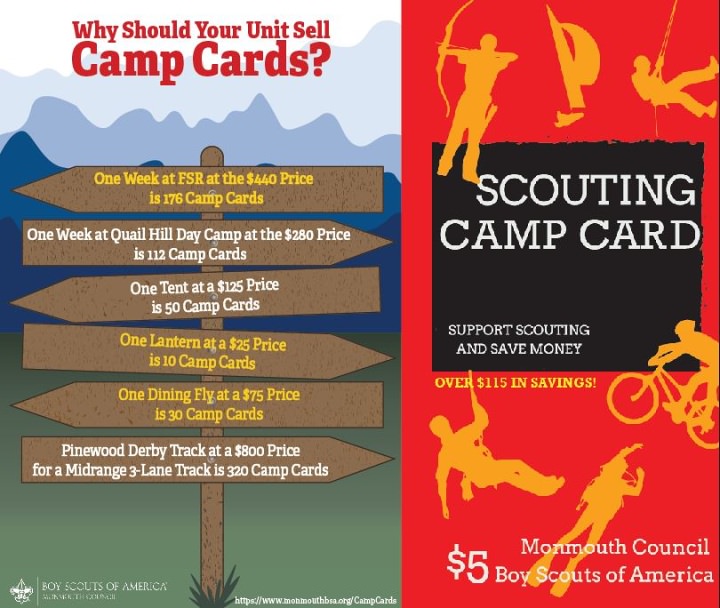 The Return of the Camp Cards... More $$ for the Units!
What are Camp Cards?
The Camp Card sale is offered through the Monmouth Council and provides a no-risk opportunity for all Scouts to sell discount Merchant cards to help them earn their way to camp. While units are encouraged to use the Camp Card Sale to help their scouts pay their way to summer camp, units may use the camp card sale to raise funds for any scouting adventures, unit activities, or unit operations and equipment.
The 9thpoint of the Scout law states: "A Scout is thrifty" and is defined as "A Scout works to pay their way and to help others. They save for the future. They protect and conserve natural resources. A Scout is careful in their use of time and property."
Timeline
Starts: The Camp Card program starts September 1, 2020.
End: The Camp Card sale will end on December 30, 2020 at 5PM.
Getting Cards
Cards may be picked up at the Monmouth Council Service Center at any time during the sale.
How many cards should I get? Units may take as many cards as they want as long as they pay for them up front. Cards that are paid for upfront CAN NOT BE RETURNED.
Costs, Profit, & Payments
Camp Cards are to be sold for $5 each.
This fundraiser provides a 65% profit margin! Therefore, every unit will keep $3.25 and the cost of each camp card is $1.75.
No one may sell Camp Cards at or in front of any Merchant (including Parking Lots) on the Camp Card, whether you have the Merchant's permission or not.
Please contact Marjorie at the Monmouth Council Service Center if you would like to participate in this fundraising opportunity for your unit.
This Year's Participating Locations
ShopRite
Olive Garden
Texas Roadhouse
IHOP
I-Play America
KFC
Modells™
Sport Clips
Moes™ Southwest Grill
Burger King
McDonalds
Longhorn Steakhouse
New Egypt Speedway
Camp Card Program Resources