Camp Card Program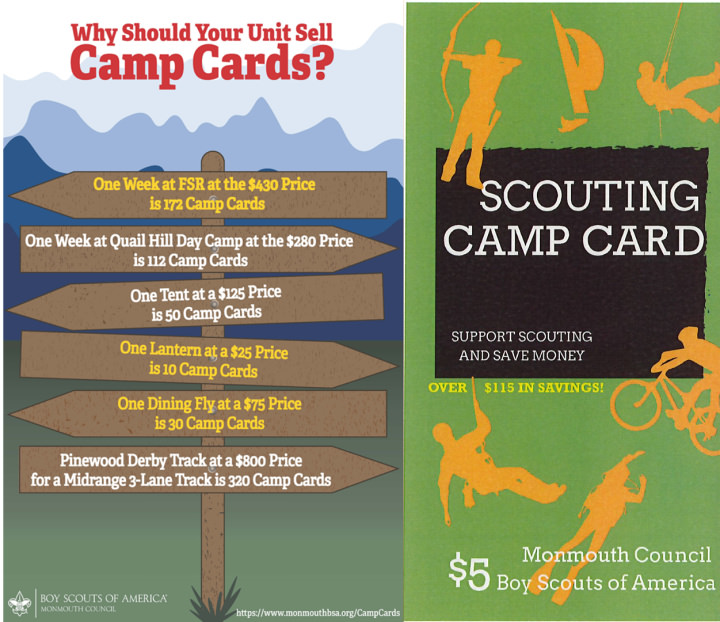 What are Camp Cards?
The Camp Card sale is offered through the Monmouth Council and provides a no-risk opportunity for all Scouts to sell discount Merchant cards to help them earn their way to camp. While units are encouraged to use the Camp Card Sale to help their scouts pay their way to summer camp, units may use the camp card sale to raise funds for any scouting adventures, unit activities, or unit operations and equipment.
The 9thpoint of the Scout law states: "A Scout is thrifty" and is defined as "A Scout works to pay their way and to help others. They save for the future. They protect and conserve natural resources. A Scout is careful in their use of time and property."
Timeline
Starts: The Camp Card program starts February 1, 2022.
End: The Camp Card sale will end on July 29, 2022 at 5PM.
Getting Cards
Cards may be picked up at the Monmouth Council Service Center at any time during the sale.
How many cards should I get?
Units will be limited to signing out the number of cards they sold in 2019* or if they did not sell in 2019* a limit of 200 cards on consignment. Units may take as many cards as they want if they pay for them up front instead of signing them out on consignment. Cards that are paid for upfront instead of on consignment may not be returned. Units may sign out more cards at any time once they pay for the cards they already have.
It is found that the best results come by setting goals. To answer, we ask that your unit set a goal, for example, your goal may be for every Scout to sell 25 cards, in which you should order accordingly. Please remember that you may pick up additional cards at any time, therefore do not worry about getting all of the cards you will need right away.
Costs, Profit, & Payments
Camp Cards are to be sold for $5 each.
This fundraiser provides a 50% profit margin! Therefore, every unit will keep $2.50 and the cost of each camp card is $2.50.
No one may sell Camp Cards at or in front of any Merchant (including Parking Lots) on the Camp Card, whether you have the Merchant's permission or not.
Please contact Marjorie at the Monmouth Council Service Center if you would like to participate in this fundraising opportunity for your unit.
This Year's Participating Locations
ShopRite
Wendys
Texas Roadhouse
White Castle
I-Play America
Cinnabon
Dick's Sporting Goods™
Sport Clips
Cold Stone Creamery
Burger King
McDonalds
Buffalo Wild Wings * check for locations
Somerset Patriot's
Camp Card Program Resources
If you have trouble accessing this online form, please contact the Council Service Center at
732.536.2347
for further assistance.