Membership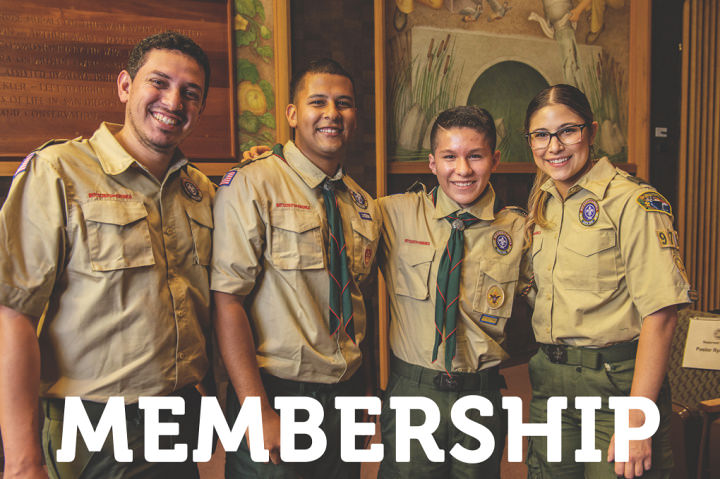 The Membership Committee's mission is to bring the Scouting Program into every neighborhood and every home in Monmouth Council.We strive for growth through the organization of new Scouting units, and growth through new members joining existing units, and growth through the retention of existing members.
COUNCIL MEMBERSHIP COMMITTEE
Council Vice President, Membership/Relationships
Anthony Buccigrossi
All-Markets Initiatives
Vacant
Battleground District Membership Chair
Vacant
Middlesex District Membership Chair
Nina Raps
Thunderbird District Membership Chair
Vacant
Twin Lights District Membership Chair
Lisa Harrington
Staff Adviser
Donald Zumbach
National Religious Resources regarding Family Scouting
---
Membership Resources
The resources listed below provide an opportunity for Cub Scout, Boy Scout, and Venturing units to recruit new members and provide up-to-date information relating to the Scouting program. If you still need assistance with a Membership issue, please reach out to one of our committee members for additional assistance.
---
Membership Applications
---
New Unit Materials
BeAScout.org Resources
---
Recruitment Resources
| File Name | Description | |
| --- | --- | --- |
| Catholic Support for Family Scouting | | Download |
| Cub Scout at Home Program | | Download |
| Family Scouting Presentation MCBSA | | Download |
| Invite New Friend - Cub Scout | This guidebook has been put together as a basis for assisting Cub Scout packs recruit new families. These are a few methods that can be implemented in your community. Some of the resources are available from Monmouth Council. The more ideas used in your recruitment, the more successful results you will have! | Download |
| Invite New Friends - Exploring | This guidebook has been put together as a basis for assisting Explorers recruit. | Download |
| Invite New Friends - Sea Scouts | This guidebook has been put together as a basis for assisting sea scout ships recruit Sea Scouts. | Download |
| Invite New Friends - Venturing | This guidebook has been put together as a basis for assisting Venturing crews recruit Venturers. These are a few methods that can be implemented in your community. | Download |
| Membership - Tips for Success Fall Recruitment.pdf | | Download |
| Membership-Successful-Cub-Recruitment.pdf | | Download |
| Recruitment_Night_Plans_and_Games.pdf | | Download |
| Scout Talk Success Tips | How to finely tune your presentation to NEW Scout recruits. | Download |
| What Goes Inside New Parent Packet.pdf | | Download |
| What You Need to Know about Recruitment | | Download |