OA Winter Carnival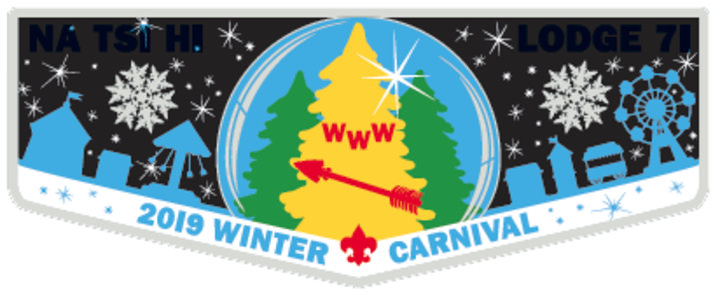 Date/Time:
Jan 6, 2019 4:00 pm to 8:00 pm
Location:
VFW 2179
1 Veterans Lane
Port Monmouth, NJ 07748

Ladies and gentlemen, step right up! The Winter Carnival 2019 is coming!
In the past this has been a strictly formal event, but both youth and adult Arrowmen can enjoy the revamped program this coming January. This year's event will include the traditional formal program of the Banquet as well as a lot of fun and games mixed in. Everyone in attenance will receive the new redesigned Carnival 2019 Lodge Flap as well as a chance as some really cool prizes.
This event is open to The Lodge Banquet is open to all Arrowmen and their families/invited guests. Dress for Scouts/Scouters is Class A uniform with an OA sash.
The formal part of the program will be designed to recognize those who have gone above and beyond in service as well as to celebrate the success of our Lodge's annual year.
Some of the highlights of this year's event are:
Fun & Carnival Themed Games
Door Prizes
Recognition of our current Lodge Executive Board
The Lodge Chief will present the Year in Review
Presentation of the Sharpest Arrow Awards for Youth Activity within the lodge
Presentation of the Founder's Award(s)
Presentation for the upcoming NE5 Conclave in 2019
Other Special Presentations and Surprises
Food and Fellowship for all in attendance
Cost:
$20 per person if paid in advance online (by 12/31).
$30 per person after 12/31 or at the door.
Pine Pass Program:
This is a GOLD Pine Pass (2019) Event.
You can buy the Pine Pass at the door, please email us first so we know to add you to the food count.
For more information on the Pine Pass Program, click here
If anyone is available before the start of the event, we can use set-up help.