OA Winter Carnival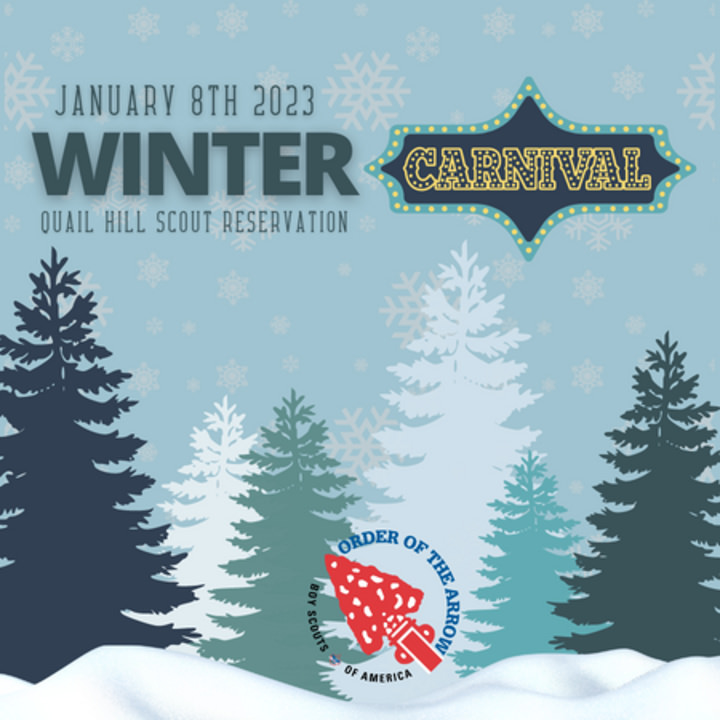 Ladies and gentlemen, step right up! The Winter Carnival is back again at a NEW location!
We will be moving the 2023 Winter Carnival to Quail Hill Scout Reservation's Lawrence Lodge. Join us for Dinner, Fun, Games, Giveaways, and Fellowship.
This event is open to all Arrowmen and their families/invited guests.
New for this year -- we are also inviting all of those Youth and Adults who were elected in 2022 by their units as Candidates of the Order but have not yet completed their Induction to come see what the Lodge is all about.
Dress Code for Scouts/Scouters is Class A uniform with an OA sash (as applicable)
Event Schedule
3:30 - 4:00 = Check-in for the Carnival
4:00 - 5:00 = Game Stations Open
5:00 - 6:00 = Dinner
6:00 - 7:30 = Game Time Resumes (Scavenger Hunt and guesses for Candy are due at 7:00!)
7:30 - 8:00 = Live Memorabilia Auction
8:00 = Prizes Awarded and Closing
Cost:
$25 per person if paid in advance online (by December 25)
$35 per person after December 25
$40 per person at the door
Pine Pass Program:
This is a YELLOW WITH PURPLE BORDER Pine Pass (2023) Event. If you have the new Pine Pass, we already have you as pre-paid for the event. You will still need to register.
You can STILL buy one of the few remaining Pine Passes at the door for $100.00, please email us first so we know to add you to the food count.
For more information on the Pine Pass Program, click here
Event Menu
Appetizers
Dinner
Dessert
A Decadent Dinner
We have partnered with Mostly Smoked BBQ of Manalapan to host a BBQ dinner to all in attendance with the following highlights:
Pulled Pork
Chicken Drumsticks
Smoked Baked Beans with Brisket Burnt Ends
6 Cheeses Mac & Cheese
Anticipated Door Prizes to Include:
Gift Cards
Some Various Swag
Limited Edition Winter Carnival 2023 Lodge Flaps
2023 Pine Pass
Conclave 2023 at Citta Full Event Fee Scholarship
and much, much more if you sign up today!
Event Flyer